Bluetooth Volume Knob
Completed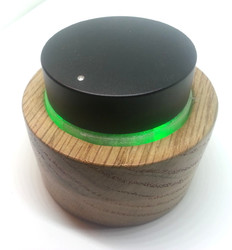 Originally an excuse to play with Bluetooth Low Energy and wireless charging, this simple project combines an nRF51822 module with a slick maple base, 3D-printed LED ring, and an anodized aluminum knob.
Features
nRF51822 Bluetooth Low Energy (BLE) module
HID Keyboard emulation
High quality quadrature encoder with click function
Custom PCB with 3D rendering (Altium Designer)
Wireless charging
Introduction
In early 2017, I purchased several new tools to start basic woodworking projects. I also decided that I wanted to start documenting projects along with high fidelity 3D models and renderings. The resulting project was a very simple volume knob that served as an educational tool in learning both new software and woodworking tools while providing an opportunity to design with space constraints.
Schematic