IoT Remote Starter
Completed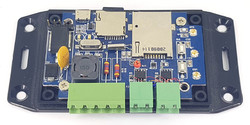 After many frustrating winters with a one-way car starter, this two-way starter uses an always-connected GSM modem to make sure the car is warm.
Features
SIM808 GSM module with GPS
Custom PCB with 3D rendering (Altium Designer)
Two CAN bus controllers for high and low speed
Robust power supply to handle automotive transients
Introduction
Many older cars had the luxury of a remote starter to warm things up during the cold Canadian winters. Unfortunately, the remote keyfob had a single button and no indication of whether the car had actually started up or not. Pressing the button a second time would cancel the remote start and shut the vehicle off. The issue here is clear: without line-of-sight or any indication of the car starting successfully, did it start? To solve this problem, rather than go out and purchase a two-way starter, I decided to build an internet-connected version using a small 2G modem and a $5/month data plan.
Schematic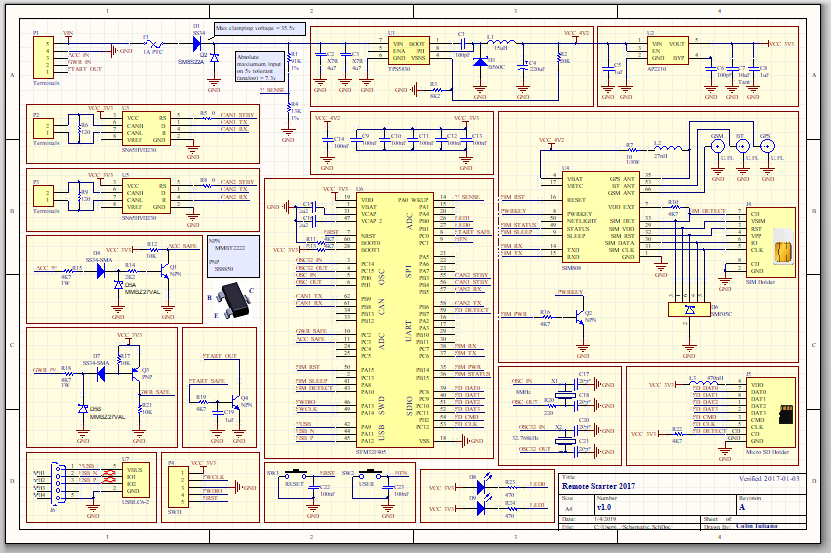 Results
I had great ambitions for this project to communicate over CAN and AWS IoT (MQTT), but once I got the prototype working reliably, I didn't continue investing the time. This project was used for a couple winters and worked great. I ran a web server in the cloud rather than finishing the AWS IoT functionality. I later discovered the SIM7600 which had built-in support for SSL and MQTT and started playing around with it since it has an onboard application processor and would remove my need for the STM32 to handle SSL. I didn't get too far before getting distracted by other projects. I got a new vehicle in 2021 that can be started through CAN so I hope to revisit this project soon.